Disneyland Resort Recipe:
Yukon
Potato Stack
With Gruyére and Parmesan Cheeses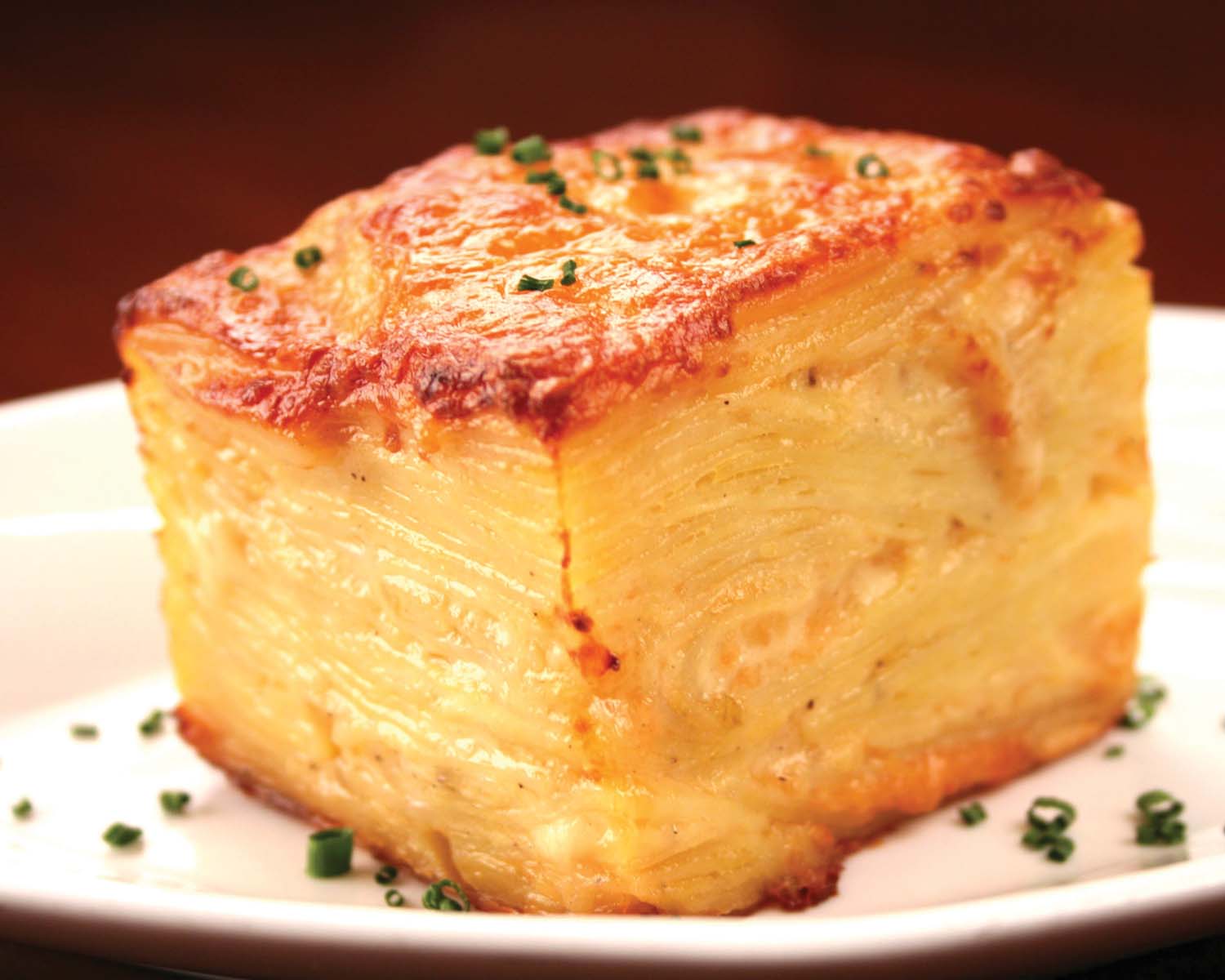 2 1/2 lbs. Yukon Gold Potatoes
1 1/4 cup Parmesan Cheese, Shredded
1 1/4 cup Gruyere Cheese, Shredded
2 Tbsp. Olive Oil
2 Tbsp. Shallots, minced
1 Tbsp. Fresh Garlic, minced
1 1/2 cups cups Heavy Cream
Salt &
Ground Black Pepper to taste
Preparation:
·
Preheat oven to 350°F.
·

Spread a 13 X 9X 2 or 11 X 7 X 2 inch pan.
·
Peel and slice potatoes to about 1/16 inch thick. (Use a mandolin or food slicer to slice potatoes uniformly. Do not rinse or hold potatoes in water because the starch will be washed away). Set aside.
·
Mix shredded cheeses together and reserve 1/3 cup to top the potato stack. Set aside.
·
Heat
olive oil in 4 qrt. saucepan over medium heat.
·
Add chopped shallots and cook for 5 minutes, stirring continuously.
·
Add garlic and continue to sauté until garlic starts to brown.
·
Add the cream and potatoes to the pot.
Stir to coat the potatoes and reduce the cream until it starts to thicken, about 7 to 10 minutes.
·
Add cheese to the pot and continue cooking over medium heat until cheese melts. Adjust the salt & pepper to taste.
·
Add potato mix to the pan, making sure that the potatoes lay flat and that there are no gaps.
·
Spread the reserved cheese over the top in an even layer.
·
Cover the baking pan with foil.
·
Bake in preheated oven for 1 hour 30 minutes utile potatoes are tender and is mostly absorbed .